July 3rd, 2006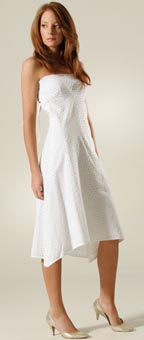 We asked: Is Eyelet In or Out?
You said: Eyelet is in, at least for this season. The breakdown? 67% are all for Eyelet. 25% believe the trend is already on the way out, and the remaining 8% voted it Out.

Omiru's take: Eyelet is white hot right now (and even received a nod of approval from InStyle in the July issue), but we question how long its virginal innocence will captivate the flittering whims of the fashion elite. We think eyelet is riding the coattails of the White trend we've been following. That said, the coy cleanliness of eyelet still feels like a breath of fresh air.

Next Question: Plaid is showing it's stripes everywhere–from men's shorts to women's blouses and jackets. Tell us, what do you think about plaid? Is it In, or is
it Out? Cast your vote on
the sidebar!
In honor of the 4th of July holiday, Omiru will not be publishing tomorrow. Enjoy the fireworks, and we'll see you bright and early on Wednesday!

Entry Filed under: Trend,Trend Predictives,What's In and What's Out