July 5th, 2006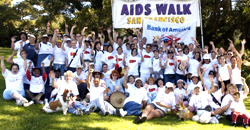 If you haven't yet updated your 'do for summer, make an appointment with Elevation Salon + Café. You'll not only help your hair, but also those living with AIDS. The fourth annual San Francisco AIDS Walk Cut-a-thon will take place this Sunday, July 9, between noon and 5 p.m. Haircuts will be $40, tints $50. All proceeds from this
party-like event will go to the San Francisco AIDS Walk. Come out and enjoy the music, snacks, drinks, and goody-bag
giveaways–and don't forget to drop by the Omiru booth!

Elevation Salon + Café
451 Bush Street (between Kearny and Grant)
San Francisco, CA
Call 415-392-2969 for an appointment for Sunday, July 9, between noon and 5 p.m.
If
you don't need a new hairdo but would still like to contribute, please make a
donation at the SF AIDS Walk website (click on "Make a Donation" in the left hand navigation).
Entry Filed under: News