July 7th, 2006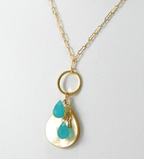 If that island screensaver feels like it's mocking you as you slave away in your 6×6 cubicle, designer Amy Steinberg has a treat for you.
You may not be able to jet off to Bora Bora, but you can accessorize with Amy's Bora Bora Necklace, whose droplets of blue jade evoke the hue of the water.
Amy suggests pairing her Bora Bora Necklace with a colorful dress for a date on the beach, a lace-trimmed caramel silk tank for drinks with the girls, or a Strong Girl tee for a display of girl power.

$48 at Charming Sam.
Entry Filed under: $50-$100,Women,Women's Accessories