July 17th, 2006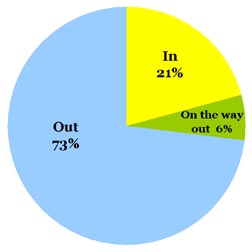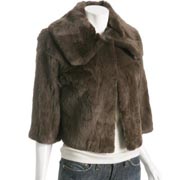 We asked: Is Fur In or Out?
You said: Without a doubt, fur is OUT. The breakdown? A full 73% are anti-Fur, 6% believe fur is on the way out. Only 21% believe that wearing Fur is In.

Omiru's take: Here at Omiru, we're pro-Animal, and we think that fur is best worn by the animal it's grown on–so we'll skip the "How to Wear Fur" style tips. In fact, we promoted cruelty-free products in our latest Friday Fashion Hotlist. However, we also believe that everyone's entitled to their own opinion, so we're not passing judgment on the pro-Fur 21%. (We still love you too.) It's interesting to see the In-Out breakdown for this trend, especially since one of the big Fall 2006 trends (if you believe the runways) is Fur. Makes us wonder what's turning public opinion against wearing Fur. Is it PETA? Or is it something else? We welcome your ideas, as always, in the comments.

Next Question: Boots are always huge for fall, but do you still love Cowboy boots? Sure, they got a lot of play last year–but would you still wear them this year? Tell us, what do you think about cowboy boots? Are they In, or are they Out? Cast your vote on
the sidebar!

Entry Filed under: News,Trend,Trend Predictives,What's In and What's Out