July 19th, 2006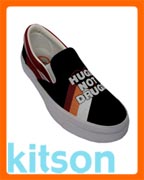 Local Celebrity, known for its catchy printed tees (Our personal favorite? An earphone-toting bunny emblazoned with "Hip Hop and Ya Don't Stop."), is extending its fun to footwear! We love the down-to-earth design team just as much as we adore their latest message: Hugs Not Drugs!
Want to hear more about the design trio behind the cheeky brand? Check out our designer profile of Jordan from Local Celebrity!

Be the first to snag a pair of these shoes–they were just shipped out this week!

$48 at Kitson.
Entry Filed under: $20-$50,Teens,Women,Women's Accessories