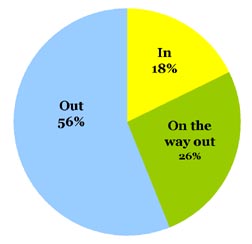 We asked: Are Cowboy Boots In or Out?
You said: Out. The breakdown? A slight majority (56%) think Cowboy Boots are over, and another 26% believe they're on the way out. Only 18% are still saddling up in these boots.

Omiru's take: Sienna Miller may have brought these riding boots to the city streets, but she's since moved on…and so have we. We're still all over boots for Fall (who wouldn't be), but leave this style back on the cattle ranch where it belongs. Instead, opt for a more elegant, graceful boot that matches the elegance of Fall's ladylike trends–think Grecian draping, capes and capelets, and opera-worthy gloves.

Next Question: Amusing (and sometimes risqué), humor tees are a staple among Young Hollywood and are almost as universal as uber-processed denim. Tell us, what do you think about these humor tees? Are they
In, or are they Out? Cast your vote on
the sidebar!

4 comments July 24th, 2006