August 2nd, 2006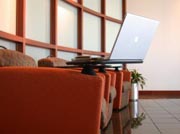 The key to looking fresh at work despite the sweltering heat is to keep your look simple and remember that the difference between looking crisp and feeling wilted is all in the details. To beat the heat while keeping your look professional, try:
Lightweight, Breathable Fabrics: It goes without saying that lighter weight fabrics are generally going to be cooler than heavier weight fabrics. However, consider how breathable the fabric is. Natural fabrics like cotton and linen work especially well on hot days because they absorb and release moisture quickly, allowing fabric to "breathe."
Simple Silhouettes: Simple, unfussy silhouettes—such as a well-cut suit or a shift dress—automatically give your look a polished feel, even when you're sitting in the stifling heat.

Adding the Unexpected: Upon this simple foundation, add an unexpected color or detail to punch up your outfit. A bright color, an oversized collar, or a special detail like pintucking or piping will take your outfit from simply work-appropriate to stunning.
Layering: Layering becomes more important than ever when alternating between the blisteringly warm outdoors and an ice-cold air-conditioned office. Keep a fitted sweater on hand in the office to weather these temperature shifts.

Personal Grooming: Neat hair, manicured nails, and scuff free shoes—personal grooming essentials—are de rigeur. Longhaired women can pull back their hair into a ponytail or a bun for a refined look. Oil absorbing facial wipes work well to keep your skin fresh looking (and feeling) throughout the day.
We've used these principles to create a mini-series of heat-resistant and work-appropriate outfits for women and men. Enjoy!
For Women

For Men