August 8th, 2006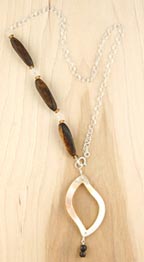 Designer Sharla Samuelson was inspired by the unique shape of the shell to create her Hollow Mother of Pearl Necklace. "The shell is delicate yet funky, and I wanted a necklace that would have the same feel."
Sharla recommends pairing the unique necklace with simple silhouettes: a wrap dress, a low v-neck top, or even a white button-down shirt and jeans.
Fun fact about Sharla? She has a serious love for pistachio pudding.

$39 at Sharma Designs.
Entry Filed under: $20-$50,Women,Women's Accessories