August 16th, 2006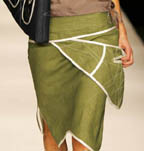 Carol Young's grassy linen pocket skirt with white contrast detailing is perfectly paired with a earthy brown halter or a fresh white tank.

$210 $147 (now 30% off) at Cessa Saval.
Fun fact about Cessa Saval? She's the great-granddaughter of legendary '40s Hollywood shoe designer, Ted Saval!
Entry Filed under: $100-$250,Women,Women's Fashion