Issue No. 54 of the Friday Fashion Hotlist: a weekly compilation of the
cutest and coolest stuff Omiru's Style Intelligence Report saw out there this
week.
This
week, in honor of the back to school season, we bring to you bags that will effortlessly tote your books from dorm room to classroom. And because we love you, we're choosing ergonomically friendly (and unisex) styles–a fabulously functional backpack and a rolling bag.

Going away to college and don't know what to pack? Enter Omiru's Women's and Men's College Packing Hotlists, which will equip you to make the transition in style.


Incase Rip-Stop Backpack | $99.95 at Apple
Sleek, functional, and perfect for those who need gadgets on the go.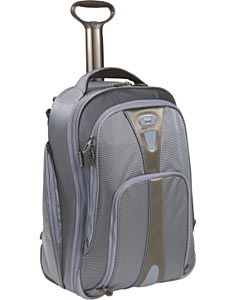 T-Tech Pulse West Broadway 20" Wheeled Carry-On Convertible Backpack | $325 at
Tumi
Roll your books instead of carrying them. Your back will thank you.
Add comment August 18th, 2006