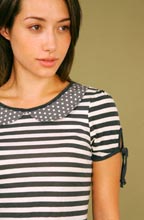 We asked: Are Horizontal Stripes In or Out?
You said: They're (barely) in. 56% of you are all for the horizontal stripes, but significant chunks of Omiru's population think they're Out (19%) and On the Way Out (25%).

Omiru's take: While horizontal stripes are still In, they certainly aren't universally popular. Perhaps this hesitancy relates to the conventional fashion wisdom that declares that, like the camera that adds 10 pounds, "horizontal stripes make you look fat." Our tip for suiting up in these stripes? Opt for thin stripes, which appear more like an all-over fabric pattern, instead of the wide horizontal stripes that draw the eye from side to side.
Next Question: Colorful handbags in shades of sunflower, grass, and aqua are adorning the arms of fashion mavens. But what do you think? Should we beware of basic brown and black and have our handbags embrace these rainbow colors? Tell us, are Colorful Handbags In, or are they Out? Cast your
vote on
the sidebar!
Pictured: Vintage Print Peter Pan Top | $19.99 (sale) at Urban Outfitters.

Add comment August 21st, 2006