August 29th, 2006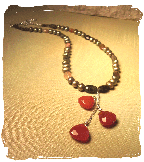 Inspired by trumpet flowers that spill from the tendrils of their vines, designer Susan Hardiman created the Cascado Russeto Necklace.
Because the necklace looks best against bare skin, Susan recommends pairing it with an open neck blouse, sweater or dress. "I like the way the necklace delicately cascades on the neckline and accentuates a woman's natural beauty."
Something you didn't know about Susan? Her three terriers are her muses.

$60 at Adornamenti.
Entry Filed under: $50-$100,Women,Women's Accessories