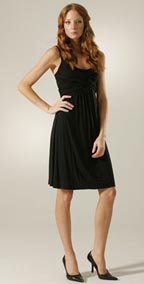 The key to dressing ten pounds thinner has much to do with a good magic trick. Like a magician that uses misdirection to compel his audience to look where he wants them to, you can visually create a slimming, elongated vertical line for the eye to follow. However, you don't need to be a magician to look like you've shed pounds. To look like you're ten pounds thinner without so much as a trip to the gym, try:

Wearing What Fits: Fit is the #1 determinant of whether you look poor or polished. For good fit that flatters, look for clothes that skim your body. Body-hugging clothes, or those that pull at the buttons, only draw attention to problem spots. Before you wear something out of the house, make sure that nothing is puckering or pulling. And when in doubt, go one size up. The looser fitting clothing will encourage others to ask the golden question: "Have you lost weight?"
Monochromatic Outfits: The simplest way to create an elongated vertical line is to craft an outfit in one color. However, you needn't be so strict—dressing in light and dark variations of one color creates much of the same effect.
Vertical Lines: Instead of wearing garments with strong horizontal detailing, try ones with vertical details. What kinds of details are we talking about? Zippers, buttons, stripes, piping, pockets, and other embellishments.
Dark Colors: It's no secret that dark colors tend to recede, and light colors tend to come forward. Though wearing dark colors visually minimizes problem spots, wearing head-to-toe dark colors can be dreary. Play up your best features by strategically adding lighter colors in those places.
Wearing Something You Love: To truly look amazing, you also have to feel amazing about yourself. And there's no better way to feel good about yourself than to be wearing something that you love. Draw attention to your best features with a favorite sweater that shows off your amazing collarbone or an eye-catching necklace that frames your gorgeous face.
Pictured: Theory Domina Above Dress | $275 at Shopbop.


2 comments August 31st, 2006