September 8th, 2006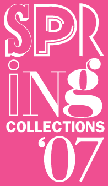 Omiru is proud to bring to you Fashion Week coverage straight from the tents at Bryant Park over the next week! We're flying out to New York late on Friday night, and we'll be starting our coverage when we arrive on Saturday.
Look for our trademark show reviews, accompanied by more of our signature designer interviews. We'll also bring to you the best fashion week coverage from our favorite blogs, daily.
Three Cheers for Fashion Week!
Update 9.9.06: Show recap posts should start regularly being posted tomorrow. Sorry for the delay. Blame it on the jet lag…and the delirium that comes from subsisting on an hour of sleep!