September 10th, 2006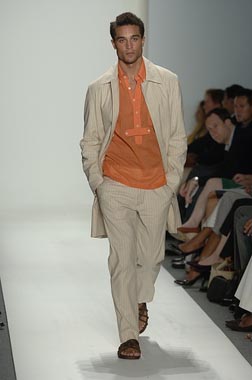 Photo Credit: Coutorture
Key Takeaways: The brighter side of the Hamptons Gentleman – strategically placed lines and very soft characterstics that still stay masculine.
Color Palette: Bartlett turns the volume knob of autumnal colors up one decibel higher with tans, olives, grays as well as citrus yellows and oranges.
Silhouettes: A nice contrast of bottoms: loose-fit slacks and fitted shorts are very spring friendly. Complementing tops and savvy blazers broaden shoulders and torsos effortlessly.
Accessories Report: Leather travel duffels and Top-sider shoes are the perfect touch to this yachting gentleman charm.
What's Wearable: Everything in this collection is fresh. The separates make it realistic enough to translate from the runway to an everyday wardrobe for the man. It's casual, chic and most of all perfect for spring.
What's Not Wearable: Two complaints – for one, we saw a baggy windbreaker reminiscent of that of the Members Only club. I know the eighties have been coming back into style, but there is a line that needs to be drawn. Also, the rolled up pants paired with blazers wasn't necessarily appealing. Unless you're having a business meeting on a beach, we wouldn't recommend.
Entry Filed under: Men,Runway Reviews,Runway Reviews,Trend