September 11th, 2006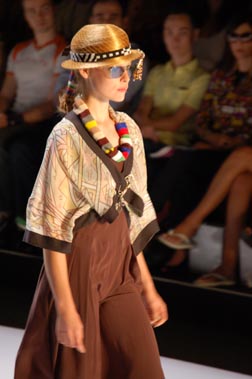 Photo Credit: Omiru: Style for All

Key Takeaways: Halloween is not quite here, but it seems Herchcovitch drew some inspiration from his favorite costumes for his collection, which he described as inspired by Ndebele tribe of Zimbabwe. Don't be spooked out, it's nothing you can't handle; we appreciated the skull adorned police cap, no doubt inspired by his fave necklace, which coincidentally features a skull. True to form, we saw lots of color, lots of wackiness, and whole lotta attitude in this collection. And, if you thought every pattern in the world had been discovered, you're wrong because Herchcovitch has come up with intricate patterns that rival the gorgeous stained glass windows of a European cathedral.
Color Palette: No colors in this collection are subtle: red, blue, yellow, white, green, black, pink, and lime green.
Silhouettes: Much like its color, the silhouettes in this collection are not for the shy. We viewed tight overalls, loose off-the-shoulder dresses, boat-neck and cap-sleeve frocks, cropped trapeze jackets, flowy skirts, cuffed shorts, loose trousers, military-style jackets, pleated skirts, ultra-loose suits with cropped and cuffed pants.
Accessories Report: Aviator shades shielded the eyes of all the models, as did police caps marked with a skull emblem and Charlie Chaplin-style hats. Brooches held shawls in place, below-the-knee boots stomped the catwalk, and short leather gloves à la Michael Jackson graced the models' hands. The rarest accessory, though, was a really thick and colorful bead-adorned necklace - if you can call it that, since its thickness rivaled that of a neck brace. Doubt that these will really catch on with the masses, but they were visually interesting nevertheless.

What's Wearable: Some pieces, if worn more modestly, can be pulled off in the streets. The cropped trapeze jacket was very chic, and a daring gal could definitely sport the military-like red jacket with buckles.
What's Not Wearable: We'd recommend steering clear of the thick necklaces and hula-hoop-like belts, which we fear might make you look like a circus performer. Some of the patterns are too loud for the streets (we'd like them better in moderation), and we also spotted a pair of overalls that should be returned to its farmer owner immediately.
Entry Filed under: Runway Reviews,Runway Reviews,Trend,Women