September 11th, 2006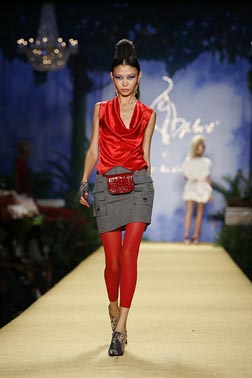 Photo Credit: Coutorture
Key Takeaways: Funky layering with a liberal sprinkle of vamp. We saw many separately wearable pieces but no sense of cohesion within the line. Detailing ranged from cowl to circle-cut necklines and tweeds mixed with opulent satins. Swimsuits are featured as summer-wear with short kimono sleeve coverings. Suit sets mirror the kimono detailing, while dresses feature short flowy tails.
Color Palette: Classic Indy 500 colors rev up this collection with diva reds, whites and blacks. Neutrals such as beige and grey are accented by maroon.
Silhouettes: Top-heavy outfits feature more conservative pieces on top and risque bottom pieces such as swim suit bottoms and form-fitting cropped pants.
Accessories Report: As always, Kimora Lee Simmons (or just KLS) focuses heavily on accessories including the requisite large funky earrings with bright detailing, oversized structured bags, small fanny packs reminiscent of those of Gucci and the occasional-odd banana leaf shaped hair hat.

What's Wearable: Delightful small pockets flank either side of skirts or jackets and create a balanced look on pieces that may lack a focal point.
What's Not Wearable: The colored tights (purple, blue) featured in the show may cause those without model-thin legs to appear larger then they should. We'd also recommend passing on the banana leaf hats.

Entry Filed under: Runway Reviews,Runway Reviews,Trend,Women