September 11th, 2006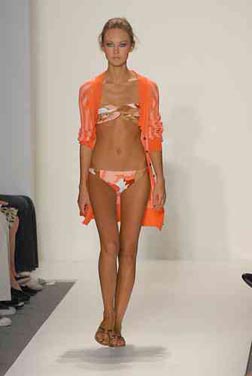 Photo Credit: Coutorture

Key Takeaways: Designer Jenni Kayne apparently shares the same dilemma as most women when it comes to clothes: do we cover up in loose clothing, or do we put it all out with barely-there duds? Along with tiny bikinis, skin-tight one-piece bathing suits, short bubble skirts, and even shorter shorts, Kayne also stuck with what seems to be a theme for Spring Fashion Week 2007: volume. So while the designer wants you to participate in the latest loose trend, she also encourages you to bare it all.
Color Palette: Mellow yellow, bright yellow, maroon, navy blue, black, grey, and brown.
Silhouettes: Dresses took center stage with loose-fitting empire-waist minis, deep v-necks, Grecian off-the-shoulder styles, and v-necks with airy short sleeves. Mini-shorts, bubble skirts, bikinis, cropped blazers, and grandpa cardigans also made their way into the collection.
Accessories Report: Accessories at Kayne's show were limited to wide leather belts worn at the natural waistline, silk fabric tied into a bow also at the waist, large square totes, and J-Lo-esque hats that come all the way down and bunch around your face.
What's Wearable: Kayne made an effort to design each piece so that it could walk off the runway and into your closet. While we wouldn't go sporting the tiny bikini to the mall, everything else translated really well to the streets (and ballrooms).
What's Not Wearable: The peach-colored cropped leather jackets are not necessarily unwearable, but they may make you feel like a character straight out of Grease!
Entry Filed under: Runway Reviews,Runway Reviews,Trend,Women