September 11th, 2006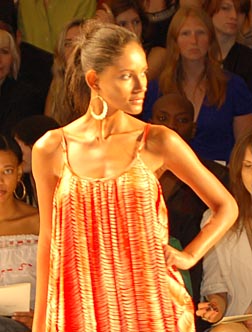 Photo Credit:
Omiru: Style for All
Key takeaways: Can we say va-va-voluminous? Watching Reese's show, one couldn't help but notice that each piece in the collection - be it cargo shorts, trenchcoats, or turtlenecks - was loose and airy (even the toothpick-thin models looked a tad less famished). Reese also made full use of bangles and cuff bracelets, often piling them on in threes or fours. The designer also made it quite clear that bling (aka sequins) is here to stay.

Color Palette: Initially, the collection was rather broody with black, white, and grey. But midway, we felt a burst of color with fuchsia, hot orange, green, and red. Occasionally, loud sparkles glittered their way down the catwalk.
Silhouettes: It was all about volume for Reese. Sleeves, pant legs, bodices, and skirts were all characterized by a careful use of volume. We saw everything from flowy skirts to bubble dresses with equally bubbly sleeves, loose trousers, loose tunic dresses, strapless pantsuits, off-the-shoulder tops, and even a loose-fitting turtleneck.
Accessories Report: The models were geared up in colorful bangles, chunky gold hoop earrings, skinny and wide belts (worn at–not below–the waist), and messenger and satchel handbags. The most creative accessory on the runway, however, was a bracelet made of silk and tied with a bow.
What's Wearable: Luckily, everything - although you may need to buy a few sizes smaller since the collection was so big on volume. We're crushing on the loose-fitting turtleneck because they're such a departure from the everpresent form-fitting versions.
Celebrity Sightings: Andre Leon Talley (of Vogue) and Carmen Electra (she is so incredibly tiny in person!).
Entry Filed under: Runway Reviews,Runway Reviews,Trend,Women