September 12th, 2006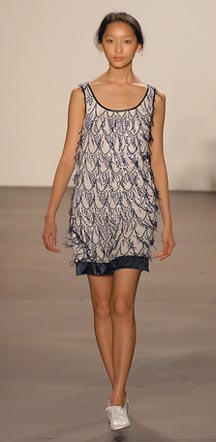 Photo Credit: Coutorture

Key Takeaways: Key trends from Fall 2006 continued to influence Ashleigh Verrier, a recent graduate of Parsons and a former apprentice at Proenza Schouler. The idea of controlled volume permeated her collection, which featured fabric manipulations from ruffles to ruching. Verrier also continued to work with higher waistlines and cropped jackets and capelets, all hallmarks of the Fall 2006 season.
Color Palette: Neutrals (black and white) were joined by gorgeously wearable shades of mustard, orange, dusky rose, sky blue, and ocean blue.

Silhouettes: Form fitting silhouettes characterized Verrier's collection: bustiers, pencil skirts, tailored tops, skinny shorts, and fitted dresses. A sprinkle of A-line styles rounded out Verrier's collection. Of note are the sailor shorts (nautical's still big), thick straps on tops and dresses, the extra-long placket, wide lapels, capelets, bows, and tops with peplums.

Accessories Report: Strappy platform sandals and espadrilles adorned the models' feet. Necklaces were either shown thoughtfully layered or with large dangling gems.

What's Wearable: We loved a flapperesque navy and white beaded dress (pictured), a flutter sleeve belted striped dress, and a half-sleeve cream coat with oversized collar and pockets.

What's Not Wearable: Steer clear of the horizontal striped skirt with hidden pleats, which we found unflattering even on the model. We'd also avoid the fabric-blocked top with wide straps and a long peplum, which accentuates thick arms and thick middles.
Entry Filed under: Runway Reviews,Runway Reviews,Trend,Women