September 12th, 2006
<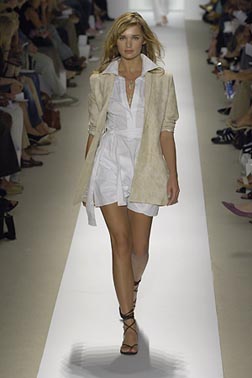 Photo Credit: New York Magazine
Key Takeaways: Atil Kutoglu's exotic Turkish background suggests a collection that hints at opulence, and this season is no exception as he delivers comfortably rich pashima shawls tied around the neck and fitted pieces paired with loose tunic-inspired jackets and outerwear.
Color Palette: Spring's fancy has arrived in the form of pastels and basics: dusty blue, pale canary yellow, beiges and greys are chased with a fresh breath of shimmery golds, sparkling turquoises and a striking orange-red.
Silhouettes: The three L's are in order: Long, Lean and Layered. Each combination that walked down the runway featured one of these elements and eschewed traditional rules of a fit bottom and loose top or vice versa for pieces that accentuated the shape of the hips but that did not ignore other parts of the body.
Accessories Report: Can we say tassels? Almost all of the models were featured wearing a small tassel necklace on a delicate chain. So chic! We also spotted the scarves mentioned before and lace-up Roman flats.
What's Wearable: Hello, Casual Friday. Three cheers for the almost-carelessly rolled up sleeves that remind us of sitting at home relaxing with a delicious novel and a glass of iced tea.
What's Not Wearable: Avoid the chest-flattening tube-dresses that may induce cleavage overflow in more voluptuous women.
Entry Filed under: Runway Reviews,Runway Reviews,Trend,Women