September 12th, 2006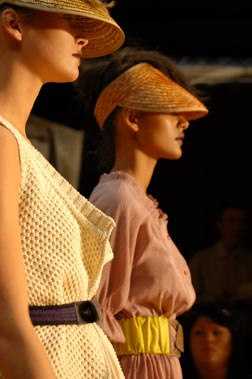 Photo Credit: Omiru: Style for All
Key Takeaways: Rachel Comey is single-handedly bringing back the sun visor. Well, we're not so sure the accessory was ever really in style, but either way, it's on our radar for Spring 2007. Another interesting trend in Comey's collection was gigantic trouser cuffs, seen on Bermuda length shorts and short pants. If you can't picture how big the cuffs really are, we'll just say they're large enough to double as safe havens for your cell phone. As for shoes, look out for chunky platform heels next Spring.

Color Palette: Comey's overall color scheme was rather muted, so imagine the following hues in the most toned down versions of themselves: purple, brown, red, light peach, black, army green, teal, navy blue, and white.
Silhouettes: If you haven't noticed so far, volume is a BIG trend at Fashion Week, and naturally, Comey's collection followed suit. Controlled volume appeared in everything from bermuda shorts, scoop-neck dresses, triangle bikini tops, tube tops, button down shirts, dresses with deep v's, both in the front and back, trapeze jackets, tiered tank tops, crocheted vests, and cigarette pants. The most unique piece, however, was a navy blue jersey dress with a large bow protruding from the chest area.

Accessories Report: Belts of all kinds–thick, thin, and medium-sized–appeared on the catwalk. Some were black, one dared to be hot pink. Shoes included studded flats with ankle straps, chunky wedge sandals, and round-toe pumps (a throwback to previous seasons). Along with the straw visors (black or tan), all models sported next-t0-black lipstick on their lips. Comey had an interesting take on the thick-belt-at-the-waist trend, designing a black cinched belt with a tan front and a unique buckle.
What's Wearable: As native Californians, we're all over the easygoing jersey knits and the loose shapes. And if you tend to gravitate towards darker hues, Comey's collection is ideal.
What's Not Wearable: Sure, visors are good for blocking the sun, but we're not sure how realistically they will translate to the streets.

Entry Filed under: Runway Reviews,Runway Reviews,Trend,Women