September 12th, 2006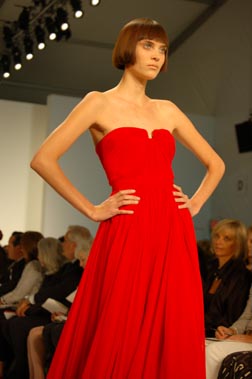 Photo Credit: Omiru: Style for All
Key Takeaways: Reem Acra has decided to add a sheen to Spring. Her romantic eveningwear maintains a consistant flirty and flowy feel with half of the collection featuring a sheen finish. Classic chiffon, brocade, starburst embroidery and beading, and even dip-dye techniques take this collection from from lovely to luxurious. As in Fall 2006, Acra has included at least one piece in a blood red (see above) that is so striking, we can't help but feature it. We also loved a pale cream grecian inspired dress that featured a cape that flowed back into the dress. Vraiment romantique!
Color Palette: Warm beiges, golds and browns predominate with a range of additional colors including white, blue, grey, pink-lavender and, of course, blood red.
Silhouettes: Puff sleeves dominate the more casual chiffon-based pieces, and trapeze shapes also appear in very Mod-ern dresscoats. However, most of the line drives home a very romantic, yet structured, feel with the stiffer fabrics. Skirt and dress bottoms range from knee-length styles to long floor-sweeping A-lines that seem to glide across the floor to sheath dresses with small trailing trains.
Accessories Report: How does a designer encourage an audience to focus on only the clothes in the collection? Simple. Do away with all handbags and jewelry and retain the same neutral flesh-tone on the straps of the models' stiletto shoes.
What's Wearable: We adored the simple wide chiffon straps and the lovely delicateness of the full length dresses that barely swept the floor.
What's Not Wearable: If large chested, do avoid a very low V-neckline. Only you can prevent wardrobe malfunctions.
Entry Filed under: Runway Reviews,Runway Reviews,Trend,Women