September 12th, 2006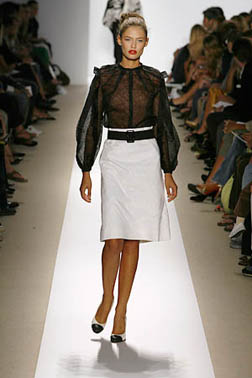 Photo Credit: NY Metro
Key Takeaways:
Volume was definitely in the picture again, but this time it was mainly in the sleeves. Tuleh paired blouses with loose sleeves with clean, A-line knee-length skirts; the juxtoposition of the airy tops and form-fitting skirts was a winner. Another key trend was cocktail dresses with bubble bottoms and tight bodices. Trousers were noticeably less prominent in this collection–it's clear Tuleh wants to give women back their femininity.
Color Palette:
Main colors were black and white, but beige, orange, and pink made an appearance.
Silhouettes: A-line skirts, chiffon blouses with voluminous sleeves, loose trousers, double-breasted coats, crewnecked houndstooth suits with cap sleeves, boatnecked dresses with bubble bottoms, mini skirts, wrap jackets, loose shirtdresses, mini cardigans, and strapless dresses with frills.
Accessories Report: Accessories were minimal, allowing viewers to focus on the clothes. One model was seen wearing a black feather hat with a square crown. Slick black belts worn at the waist accompanied long dresses, skirts, and shirtdresses.
What's Wearable: Almost all items were wearable, especially the A-line skirts, shirtdresses, and the cocktail dresses.
What's Not Wearable: Some blouses were completely sheer, so if you're not comfortable baring it all, try a tank top underneath. Cocktail dresses with bubble skirts feel too flamboyant for many parties, unless you're going to the Oscars.
Entry Filed under: Runway Reviews,Runway Reviews,Trend,Women