September 13th, 2006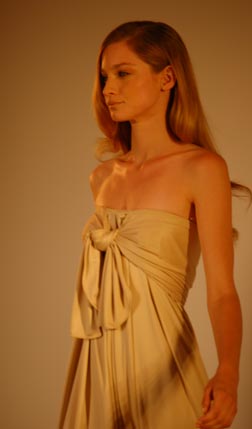 Photo Credit: Omiru: Style for All
Key Takeaways: Jeffrey Costello and Robert Tagliapietra's Spring 2007 line reminds us of the classic cuts used in their Fall 2006 collection. Both seasons share the duo's passion for detail and tailoring, while the new Spring line brings us to another level of delicate elegance with a focus on excellently draped silks and sweetly simple dresses. Fluttering and fit sleeves perfectly matched the fun tie-at-chest level detailing. Beading also adding a sparkly extra for our viewing pleasure. Our favorite moment, however, was when both designers appeared in matching lumberjack-esque outfits. What a sharp contrast to their light and fancy dresses!
Color Palette: There's something to be said for dusty understated colors of grey, pink, lavender, peach, salmon and orange. Especially when they come together to add to the charm of a classic spring date dress.
Silhouettes: Each of the dresses sported gently fitted tops and bottoms with loose draping. Shoulders are de-emphasized with a conscious lack of shoulder padding/structure. Dresses feature flutter sleeves or bandeau-tie tops with ruching.
Accessories Report: Costello and Tagliapietra are bringing "sexy back" (quick pop reference to Justin Timberlake's summer hit) by keeping it simple with delicate stilletos that match the feminine flow of the dresses.

What's Wearable: Most of the collection had a great warm spring evening wearability. With the right accessories, the 3/4 sleeve length with pencil skirt bottom dresses could also be work appropriate.
What's Not Wearable: Avoid the fluttery high waisted tops without any structure — they"ll give you an odd rectangle body shape if worn incorrectly.
Entry Filed under: Runway Reviews,Runway Reviews,Trend,Women