September 13th, 2006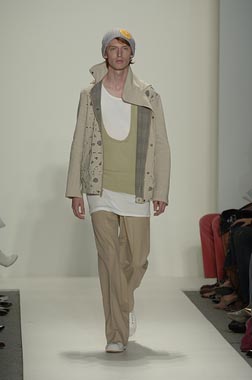 Photo Credit: Coutorture
Key Takeaways: Designers Steven Cox and Daniel Silver maintain a fashionable sense of humor with spring apparel that is both uber-baggy and uniquely tailored. All in all, it's casual clothing for the lazy model.
Color Palette: Soft blues and earthy tones are combined with solid grays and blacks to create a simple, yet eye catching palette.
Silhouettes: We see a clear journey in the silhouettes as the garments progressed – first gangsta baggy, then loose-fit, and then fitted.
Accessories Report: A couple of strategically placed beanies are the only accessories in sight in this collection.
What's Wearable: Although the sweaters are two sizes too big on all the models, they look very comfortable –same goes with some of the pants. We also appreciated a brown plaid hooded suit, which was both enjoyable and innovative. As for other forms of outerwear, most of the blazers are doable for the fashion savvy man – especially the black and white print ones.
What's Not Wearable: The holey deconstructed piece seemed more suitable for a stylish hobo in a back alley drinking a 40 oz. out of a paper bag. Also, he ballooning pants looked like scrub bottoms for the big and tall. They would not only make pre-bankrupt M.C. Hammer happy, but they would also fit a family of four comfortably. Very funny, guys!
Entry Filed under: Men,Runway Reviews,Runway Reviews,Trend