September 13th, 2006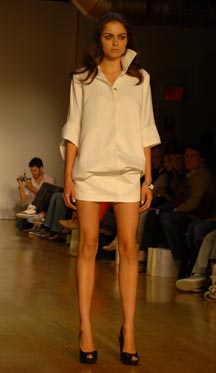 Photo Credit: Omiru: Style for All
Key Takeaways: Kai Kühne describes his collection in one word as "sharp". We'll agree that the wide bottoms with cuffs, sash ties and flowy shirts do call us to attention with a nautical-inspired collection.
Color Palette: We imagine a stylish SoHo (NY) / Potrero Hill (CA) flat filled with all of these colors: neutrals in pure white, charcoal grey, brown and beige, with hints of a light army green, silvers and a delightfully sheeny black.
Silhouettes: Draping creates figures and lines that manage to appear both loose and fitted along various lengths (natural waist and hips), while structure influences the sharp lapels and finishing touches.
Accessories Report: See last winter's trend: necklaces with large knit ball-shapes. We also saw silver chain necklaces and Christina Aguilera-esque open (and closed) peep-toe shoes.

What's Wearable: Even though it is after Labor Day, the fitted white pants are very wearable option (pair with leather peep-toe shoes for a vamp look).
What's Not Wearable:
Avoid any detailing that is gathered at the rear, especially if you are particularly blessed in that area. Also, gauchos. Enough said.
Entry Filed under: Runway Reviews,Runway Reviews,Trend,Women