September 13th, 2006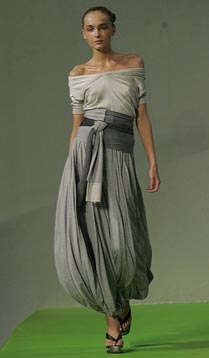 Photo Credit: Coutorture
Key Takeaways: Bear with us because Marc Jacobs' Spring collection is chock full of directional elements, the first being a flashback to the flapper era. As seen above in the photo, Jacobs modernized the traditional flapper girl by layering articles such as bubble pants and lace camis. Once again, volume took center stage, especially when it came to the trousers. Metallics also made a comeback, though not in full force (but look out for Jacobs' Louis Vuitton Mirror Collection in December; it has lots of metallic handbags!). In true Marc Jacobs' spirit, the collection also featured lots of layering, providing inspiration to stylists and fashionistas everywhere.
Color Palette: Neutral colors (white, khaki, and goregeous greys) dominated, but we spotted purple, orange, peachy-pink, and yellow.
Silhouettes: Baggy men's trousers (both long and capris), loose men's-style button-down shirts, tiered mini dresses, bubble dresses with triangle arms and bow details at one shoulder, short sleeved cardigans, and lots of layering.
Accessories Report: Jacobs is all about the head gear. Seems Jacobs' is not only trying to bring back the flapper style (via a headband with a flower at one side), but he is also trying to replace the big bugged-eyed glasses with square futuristic ones. Metallic handbags (messenger and satchel style) were also spotted, along with caps that look like they're from Paris 2015.
What's Wearable: Some pieces can be worn on the streets if they are toned down. Like in so many of the other collections this season, we find exquisitely wearable pieces in Jacobs' show–but not full outfits. Especially wearable is the outerwear–swing coats, pea-coats, and cardigans.
What's Not Wearable: We appreciate the over-the-top directionality of this
collection–had it been tamer, it would not have carried the intended
effect. However, tone it down for the streets. All of the cocktail dresses have too much going on for a simple gal. The baggy trousers threaten to make women look like their boyfriends, and the metallic outerwear is quite space-y. Though bubble silhouettes are back in full force for Spring 07, we reiterate our PSA: Wear with caution. We appreciate the novelty of the shape, but the smaller the pouf, the more flattering it will be.
Entry Filed under: Runway Reviews,Runway Reviews,Trend,Women