September 13th, 2006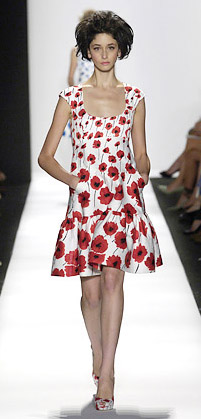 Photo Credit: NY Metro
Key Takeaways: Finally…Spring! With beautiful prints (Omiru hearts Marimekko), Oscar de la Renta's collection truly embodies the season its being designed for. As with so many other collections, volume was a key trend. In keeping with the bubble silhouette of the season, Oscar directed the volume to move down south to skirts and bottoms of dresses.

Color Palette: White, red, blue (bright and light), yellow, fuchsia, and brown.
Silhouettes: Most of the skirts were voluminous, a throwback to the heyday of 1950s couture. Skirt volume alternated between over-the-top and kept at a minimum, as Oscar showed both fitted styles and bubble silhouettes. Silhouettes of note included cap-sleeve dresses, bubble skirts, trapeze jackets, an 80's inspired prom-style sweetheart dress with a poof skirt, a bandeau bikini, a Jackie-O-style boatneck dress, the classic shift dress, and a slightly oversized unstructured skirt suit set.
Accessories Report: Square black glasses, white-rimmed glasses, a briefcase-style satchel handbag, many clear bags, and of course, the classic black patent leather belt at the waist.
What's Wearable: Most of the dresses are wearable, especially the ones will clean details. An evening gown that will translate wonderfully for a formal event is the midnight blue silk sleeveless long dress with a simple scoop neck. Bravo Oscar!

What's Not Wearable: The intense bubble skirts are too dramatic for a non-celebrity, and we fear that they might make a gal look like she takes herself too seriously.
Entry Filed under: Runway Reviews,Runway Reviews,Trend,Women