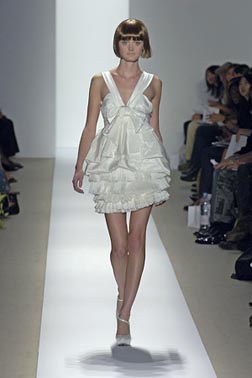 Photo Credit: NY Metro
Key Takeaways: Y & Kei designers Hanii Yoon and Gene Kang (husband and wife) have summoned an angelic look to the Spring runways. As in previous seasons, the color white was widespread, and though most the cuts were simple, we noted hints of intricacy via ruffles, tulip shaped-skirts, and a sophisticated juxtaposition of textures.
Color Palette: White was definitely the most prevalent, but Y & Kei branched out into other neutrals and metallics: black, charcoal grey, light grey, nude, and metallic silver. Purple, a huge color for fall, also made an appearance.

Silhouettes: Tulip skirts were of note, as were narrow-legged capris and trousers. Lines were clean and crisp, especially when it came to the trousers and outerwear. Tuxedo-like coats had tulip-shaped bottoms, and capelets featured ruffles.
Accessories Report: Due to the simplicity of this line, accessories were kept to a bare minimum. The only accessories we saw were a thin black belt, a thin white one, and a black satin scarf.
What's Wearable: 99% of this line is wearable, especially if you love simplicity and the concept of "Less is More."
What's Not Wearable: Some of the ruffled pieces are over-the-top for everyday wear.
Add comment September 14th, 2006