September 14th, 2006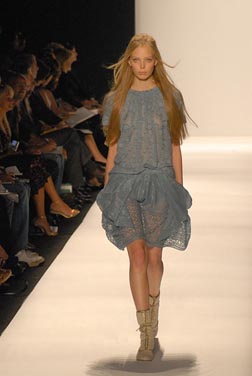 Photo Credit:
Coutorture
Key Takeaways: BCBG or "Bon Chic, Bon Genre" (Good Style, Good Attitude) started off fashion week with a wonderfully comfy chic collection that showcased trademark femininity and romantic detailing. Max Azaria's novel use of elements such as laser cut-outs allow dresses to be futuristic, while sash tie-waists, puff sleeves and the occasional peacock detailing bring them back toward delicate modern sensibilities.
Color Palette: Pale Easter egg-dipped colors such as blues, yellows, pinks and purples dominate this utterly female collection.
Silhouettes: The 60s mod-ballerina has finally arrived. Dance and party in trapeze dresses and baby dolls with fitted waists that both feature gently ruffled skirt hems. Conquistador shorts and skirts reach just above the knee for easy movement.
Accessories Report: Flat and discreet t-strap sandals in neutral colors complement the understated collection, and a lone medium brown satchel is toted down the runway.

What's Wearable: Flutter sleeves are flattering on almost any arm shape and type.
What's Not Wearable:
Avoid the high tie-sash waist with gathering unless you're waiting for a bundle of joy within the next several months.

Entry Filed under: Runway Reviews,Runway Reviews,Trend,Women