September 14th, 2006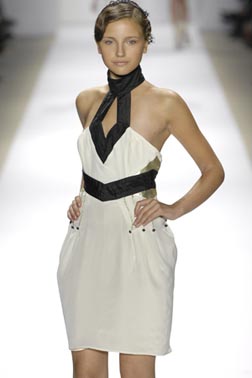 Photo Credit: New York Magazine
Key Takeaways: The darling Australian duo of Heidi Middleton (Bide) and Sarah-Jane Clarke (Sass) have reinforced their motto of "don't look too pretty." Instead of combining unusual fabric/leather/finishing choices, they used four basic colors to create contrast and strengthen a sense of uniqueness that they are known for. High U-shaped or choker necklines dominate this collection along with an interesting Greece meets American 80s sensibility seen through such pieces as a high-necked mesh-fronted dress.
Color Palette: In contrast to other collections, which generally feature two or more accent colors, Sass and & Bide showed strong neutrals of black, silver, white, matte gold and solo accents of mustard.
Silhouettes: For those of you who love the fitted and waist-centric silhouette of seasons before, Sass & Bide continue the trend. Lean tanks are combined with large tulip skirts in graphic color combinations. Low pockets on the dresses and thick straps accentuate the boldness of the structured shapes.
Accessories Report: We adored the sweet Roman-esque thin headbands that were combined with messy hair in buns, which added femininity to a slightly masculine line. Large obi-style belts with cording were also spotted (a return of the Japanese-influence?).

What's Wearable: Comfort is found on the runway in the form of delicate slim knit tanks that can be worn under your everyday work blazers.
What's Not Wearable: Avoid the bubble skirt silhouette unless you have an extremely straight-hipped figure.
Entry Filed under: Runway Reviews,Runway Reviews,Trend,Women