September 14th, 2006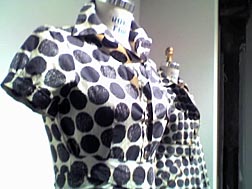 Photo Credit: Omiru: Style for All
Key Takeaways: A visit to Tocca's showroom in Chelsea feels almost like a tropical vacation with the very feminine and cotton-heavy collection inspired by the colorful island hues of the Cyclades, a part of the lovely Greek Islands. Bold graphic prints dominated Tocca's Spring/Summer collection, along with detailing ranging from eyelet to ruching to embroidery. The dress-dominated collection was made for comfort and embodied a definite casual chic.
Color Palette: Tocca's line of prints spans the rainbow of colors with a heavy emphasis on brights.
Silhouettes: Dresses and skirts are constructed in classic shapes: fitted blouses with peplums, empire-waisted dresses, wrap dresses, shirt dresses, and bandeau-top dresses.
Accessories Report: We're crushing on an oversized canvas satchel with a coconut disc bead handle, brass hardware and bamboo support structure. We absolutely adored the bold geometric prints on the satchels, lending them a casually trendy air.

What's Wearable: Carry around the canvas satchels that are already popular in Tocca's flagship store in Tokyo, and your groceries will never have felt so fashionable! The Mona Dress ($150) had a gorgeous striped print with contrast fabric on the bottom of the dress and a flattering empire waist. We also checked out the Michelle Dress ($120), whose geometric patchwork of navy and white–with a lime green neckline–embodied a mod 60s feel.
What's Not Wearable: The Tressa skirt, a short navy and white frilly-cut skirt tragically reminded us of Paris Hilton during the summer. While we didn't appreciate the frilly skirt silhouette (didn't we let this one go in 2004?), the print was still lovely.
Entry Filed under: Runway Reviews,Runway Reviews,Trend,Women