September 14th, 2006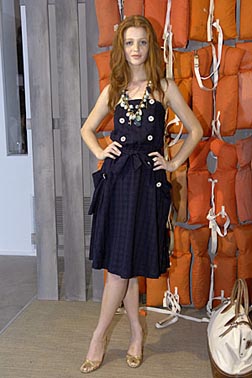 Photo Credit: NY Metro
Key Takeaways: Get ready to go sailing in Trovata's Spring collection. The underlying theme, for both men and women, was seafaring, and each piece reflected the cool, casual feel of an expedition to sea. Key Spring 2007 trends included shorts, trapeze styles, and cuffed styles.
Color Palette: Crisp white, green, blue, brown, light blue, black, and yellow.
Silhouettes: For men: Crew neck styles, short sleeved sweaters, hooded sweatshirts, cutoff khaki shorts, cuffed cargos, and cardigans. For women: mini shirtdresses, trapeze jackets, cuffed shorts, cropped trenchcoats, and triangle-shaped Bermuda pants.
Accessories Report: Both men and women sported long, layered charm necklaces. For men: floppy caps, fedora hats, frilly scarves, and bucket caps. For women: large canvas bags, charm bracelets, belts at waist, silk scarves on head, and big floppy hats.
What's Wearable: If you like the seaside look, everything is wearable. We're digging the navy blue strapless dress with nautical button detailing (pictured).
What's Not Wearable: We're a bit skeptical about charm necklaces for men. The look is too much for traditionally primped metrosexual men, and other men don't usually like to sport jewels.
Entry Filed under: Men,Runway Reviews,Runway Reviews,Runway Reviews,Trend,Women