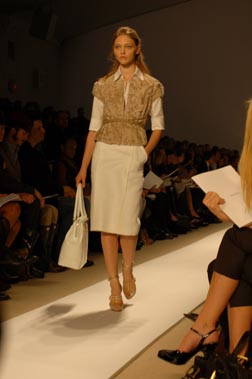 Photo Credit: Omiru: Style for All
Key Takeaways:
Gilles Mendel loves fur. As a member of the sixth generation of a long line of elite furriers, Mendel is known for experimenting with fur as fabric instead of simply as an accent piece. Spring is an unexpected time to include such a traditionally heavy material, and Mendel balances out the use of it with lighter fabrics such as silk organza and tulle in complementary floor-sweeping dresses and thin knit tanks and cardigans. We saw a definite emphasis on the use of chevrons and intricate origami designs combined with discs and this season's favorite, pleats.
Color Palette: Spring bunny-inspired neutrals in stone, alabaster, pearl, straw and chocolate dominated the runway, with slight accents of black and a sprinkle of red.
Silhouettes: Fur generally creates volume even when cut flat and this collection is no exception. Mendel uses this to his advantage by using structure that has largeness on the vests or tops or arm cuffs. He used mink and cashmere to create slender tanks and cotton to elongate disc and origami-decorated skirts and pants. Boatneck necklines showcased delicate necks. Slender patent leather belts further accented natural waists and left us dreaming of warm chic Spring days.
Accessories Report: We were pleasantly suprised when the T-strap pumps (in black and white versions) with contrast fire-engine red bottoms stole the show as the models jauntily paraded down the U-shaped runway. In addition, we noted a re-use of the thin glossy patent leather belts in white and black from Winter 2006.

What's Wearable: Omiru absolutely adored the texture and interest in the original origami shapes placed in geometric precision on a rose quartz satin faced organza dress and alabaster broadtail cropped bolero.
What's Not Wearable: Avoid the small puff short sleeves found on the straw silk mikado embroidered kimono jacket if you have proportionatly larger arms to retain your feminine shoulder curves.
Add comment September 15th, 2006