September 15th, 2006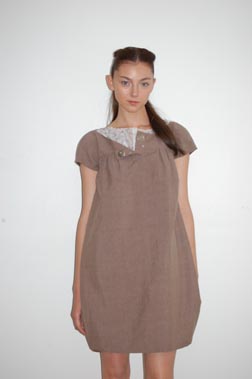 Photo Credit: Omiru: Style for All
Key Takeaways: Is it Spring yet? Araks' designer Arak Yeramyan brought a lovely Spring-on-the-Farm sensibility to this season's set of shows. Soft fabrics, light touches of flowery patterns, and billowy shirts and dresses translated into a collection that looked utterly wearable and formed the perfect accompaniment for the prarie music in the background of the show. Hanging out backstage, Omiru took this picture of one of the models in an adorable lavender-brown cap-sleeved puff dress layered over a sleek cotton tank. C'est mignon!
Color Palette: The colors in this collection remind us of the pale colored mints grandma used to stock in the parlor: white, lavender, mint, brown-lavender and a delicate grey.
Silhouettes:
It gets cold on the Great Plains! We spotted a number of thin crewneck tanks and long sleeved tees layered under sweatshirts and dresses for a definitely youth-centric dressing sensibility. The slim cut tops were combined with blousant dresses and wraps that obscured the models' figures and showcased their long legs. Poufs were seen in most outfits, and the occasional outfit featured undergarments from Araks' lingerie line.
Accessories Report: A definite lack of showy jewelry and plain black ballerina flats on all of the models helped keep the focus on the rather romantic line of clothing.

What's Wearable: We absolutely fell head-over-heels for "Look 20" in the show–a soft white cotton pique shirt jacket with pleats layered over a rainbow oatmeal sweatshirt top, finished off with brown high waisted flat front trousers with just the right amount of flare. We imagine strolling down the street in this outfit with oversized shades and our favorite Hermès bag in the crook of our arm.
What's Not Wearable: Hipster panties underneath a see-through lavender 'forget-me-not' cotton-silk print dress are too be avoided unless you are right about to get some swanky sleep in.

Entry Filed under: Runway Reviews,Runway Reviews,Trend,Women