September 15th, 2006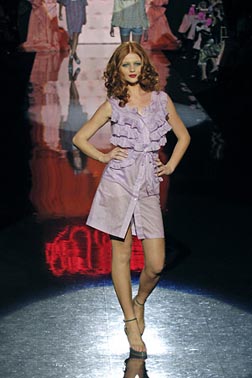 Photo Credit: New York Magazine
Key Takeaways: Betsey Johnson loves to make her models into life-size dolls, and she did just that in her Spring 2007 collection. Models sported fun and flirty dresses, and ruffles were everywhere. Some volume did appear, but this collection was at its core about flirty femininity.
Color Palette: White, nude, grey, blue, pink, lime green, lavender, purple, yellow (mustard and bright), fuchsia. Color-wise, this collection couldn't put you to sleep.
Silhouettes: Ruffles were present on almost all outfits, whether they were placed at the bodice, on sleeves, or on skirt bottoms. Even bubble skirts were more fitted than others we've seen on the runway. Shirtdresses sported short sleeves and gave off a rather airy feel; high-waisted skirts cinched models waists ultra tight, exposing the body's natural curves. Tiny boy shorts were paired with grandpa-style knitted tops, and a one-piece polka dot bathing suit conjured up images of old Hollywood glamour.
Accessories Report: Accessories were minimal. Most models sported a blue or white headband tied in a bow at the side of the head. Occasionally round sunglasses were spotted.
What's Wearable: Some of the more simple dresses could be worn at a cocktail party. The most wearable piece for everyday was a short-sleeved, collared pistachio green dress with tiers of fabric at the bodice and in the skirt.
What's Not Wearable: A fuchsia 80's-inspired dress with a poufed bottom was too-to0 much. We'd also recommend leaving the Daisy Duke shorts on the shelf.

Entry Filed under: Runway Reviews,Runway Reviews,Trend,Women