September 15th, 2006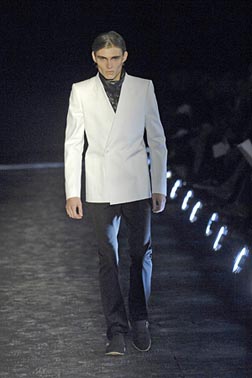 Photo Credit: New York Magazine
Key Takeaways: Alexandre Plokhov's dark sense of humor and almost gothic style on the runway has translated once again into an excellently tailored and darkly rock-funk elegant collection. Models strutted down the runway with suiting, shirts with sharply ironed pants, and floppy short boots with buckle detailing. Black appeared in textures from shiny to matte, and plaids appeared on both jackets and long shorts.
Color Palette: Colors for this season are almost exactly the same as his Winter 2006 line, with a heavy emphasis on his love for black, black and more black. Other colors spotted were dark silver, dark blue, cherry red and a beige-white.
Silhouettes: Plokhov featured a very fit and lean sensibility. Straight leg (not tapered) pants graced the models' legs in a variety of finishes and either tucked into boots or cut a little bit wider to fit over boots. One lone pair of shorts in a plaid print hit just above the knee. Jackets with fit sleeves insisted that no bulky sweaters would be worn underneath, and long sleeve shirts maintained the same cut. A black V-neck vest contrasted heavily with another long sleeve shirt in cherry red.
Accessories Report: The floppy slightly pointed boots in a variety of colors (white, black, grey) hit just above the ankle and sported a delightful side buckle detail. The versatile slouchy boot can be worn with pants tucked in or with wider legged pants covering it, meaning these boots can be still be used after the skinny pant leg trend is over. We also spotted medium sized belts in black and white, perfect for finishing off the stark outfits.

What's Wearable: While the red may be a bit too bright for the office, we did appreciate the casual chic-ness of the zip-up mandarin collar jackets with slanted dual zippers.
What's Not Wearable: As always, white has a tendency to be very sheer, so be sure to wear either a full length undershirt or forgo the shirt for one of its button-down brethren in a darker color.

Entry Filed under: Men,Runway Reviews,Runway Reviews,Trend