September 15th, 2006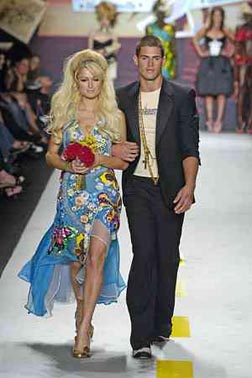 Photo Credit: New York Magazine
Key Takeaways:
With Heatherette, you always expect vibrant colors and funky patterns, and their Spring 2007 show was no exception. The most notable trend at Heatherette, besides the mixing of hues, was uneven cuts. Many dresses (like the one Paris Hilton is wearing above) sported jagged bottoms. Although the volume trend made an appearance on the runway, it was by no meant prevalent throughout the show. We applaud Heatherette for taking a stand and straying from the pack.

Color Palette:
Lots and lots of color here: black, purple, white, blue, red, yellow, purple, fuchsia, bright pink, and GOLD. Rarely was an garment monochromatic; most of the colors above were used together.
Silhouettes: Heatherette strayed from the volume trend and with cuts that read tighter and sexier. Dresses had uneven bottoms, men's shorts were tattered, and one dress featured a bubble skirt. We also spotted more casual jersey shorts and polo tops, as well as some layering of strapless dresses over grungy t-shirts.
Accessories Report:
For men: chunky gold necklaces, gold cross necklaces, and straw hats. For women: chunky gold necklaces, straw hats, travel suitcases, cloth messenger bags, and bug-eyed sunglasses.


What's Wearable:
The most "normal" outfits on Heatherette's eclectic runway were the ones Paris and Nicky Hilton sported midway: cropped jersey shorts with polo tops and crew neck sweaters.


What's Not Wearable:
Made for show, not for the streets, almost everything in the Spring collection is unwearable, especially the bathing suits with fake flowers plastered all over them.
Entry Filed under: Runway Reviews,Runway Reviews,Trend,Women