September 15th, 2006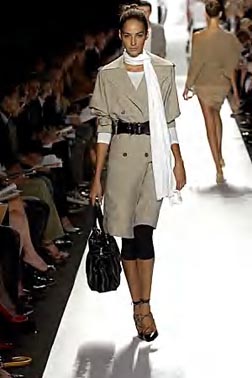 Photo Credit: New York Magazine
Key Takeaways: If Michael Kors has his way, footless tights - some with sequins - are here to stay through Spring. Much like his peer Marc Jacobs, the famed Project Runway judge featured a lot of layering in his Spring 2007 collection. Off-the-shoulder dresses were brought back again, as were skinny scarves and sweaters tied at the hip. Kors did a wonderful job of catering at once to ulta-hip fashionistas and more conservative types with a collection that was all about lifestyle.
Color Palette: Hues were muted: khaki, black, white, light pink, army green, brown, and grey. Sequins also featured prominently.
Silhouettes: For women, key silhouettes included asymmetrical skirts, dresses, and tops; tulip skirts, footless tights, short-sleeve blazers, and off-the-shoulder tops. For men: crisply clean suits and ribbed zip-up hoodies.
Accessories Report: For women: Wide and even wider belts worn at the natural waist (worn over bathing suits, skirts, dresses, and tops), thin scarves, bulky and boxy satchels, and clutches. For men: sweaters tied at the hip, messenger bags.
What's Wearable: Every single piece in Kors' collection is meant to be worn, especially the drapey dresses that exuded a relaxed sexiness. Men will love the simplicity Kors expressed in the suits and trousers.
Entry Filed under: Men,Runway Reviews,Runway Reviews,Runway Reviews,Trend,Women