September 15th, 2006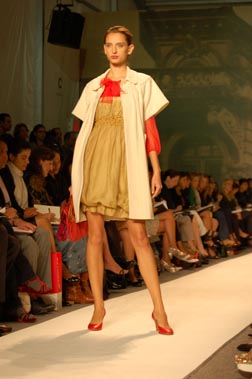 Photo Credit: Omiru: Style for All
Key Takeaways: All of us at Omiru adore a sweetie, and Tia Cibani, the Creative Director for Ports 1961, is no exception. In a pre-show interview, Omiru discovered that Cibani truly embodies the qualities of her line — softly feminine, with an unexpected shot of color and delightful energy. Fashion shows themes are not always clear (even when explicitly stated) but Tia's romantic 1940s Argentinian theme of delicate fabrics and controlled volume with strong colors and complementary accents makes us want to leap out of our seats and tango in the aisles.
Color Palette: Wonderful warmth pops from this collection in the form of ecru, tan, deep golds, a particularly fetching coral, fuchsia and the requisite black traveler's outfit.

Silhouettes: The hourglass volume created by a large cinched waist on several of the outfits gave the collection a free-feeling flow. Each piece contained layers and volume in a floaty, unstructured manner so that each model felt dressily undone. We particularly enjoyed the visual balance between a loose cropped boatneck gold knit cardigan that tied in the back over a slightly nipped-at-the-waist fuchsia silk tulle and jersey knee length shift dress that gave the model an appearance of even longer legs. We also took note of the kimono short sleeves, messy ruffles and medium weight knits.

Accessories Report: Three cheers for a large shoe collection! We appreciated that colors of the round-toe flats and sandals matched that of the collection. We also saw textured necklaces created with cloth, wire and linen. Travelling hats were also the order of the day, ranging from a "gaucho" scrunched cloth hat to a pert straw hat with tiny white veil to a large beige hat with contrast piping.
What's Wearable: After traipsing around the uneven pavement of New York
City, we're naturally partial to the feet-saving
flats in a variety of colors and soft leathers. We also appreciated a two-toned fuchsia and gold silk tulle blouse paired with an opaque underlay and
fun(ky) canteloupe cotton grosgrain brooch for a elegantly sexy night
out.
What's Not Wearable: Volume here, volume there, volume everywhere! Beware of this combination (seen on the gold taffeta petal sleeve jacket paired with a fuchsia ruffle dress) unless you would like to look like a rather expensive eggplant.
Curious about Ports 1961? Get an insider view of the collection with Omiru's backstage interview with Creative Director Tia Cibani.

Entry Filed under: Runway Reviews,Runway Reviews,Trend,Women