September 15th, 2006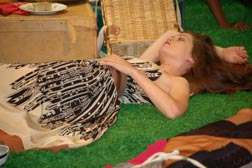 Photo Credit: Omiru: Style for All
Key Takeaways: Like a breath of fresh Spring air in the tents, you are pleasantly greeted by a exclusive French picnic party on the lawn. You take a glass of chilled champagne and stroll among life-size versions of magazine ads for the casually wealthy on a day off. We're so comfortable with this presentation by Lisa Mayock and Sophie Buhai, we're almost tempted to take a nap (like the model pictured above). The collection, however, was anything but snooze-ville. Delicious prints (the one seen above was also featured in Spring '05), slick lines, and an elegant touch with attention to details and colorblocking made us want to stop and stare for a little while longer.
Color Palette: Reminiescent of their Spring '06 line, we see the same nautical colors of creams, blacks and dark blues.
Silhouettes: Streamlined cuts oversaw this party. Avoiding the puffy, structured look of many other designers for this season, the impressively young Mayock and Buhai opted for romantic flutters in sleeves, loosely tied cardigans in thin draping knits, and skinny jeans with a straight fit. Comfort seemed paramount in outfits such as an elbow-length dress with a textured-ink print and loose fit throughout.

Accessories Report: Outside of the rubber frogs, bottles of champagne and real corn that one of the models was shucking, we saw a variety of shoes and jewelry. Shoes ranged form thickly stacked heels to bare feet and jewelry had a heavy chunkiness to complement the floaty comfort of the dresses. We also saw a lone slouchy beige beret adorning one of the "Misfits" in the presentation.
What's Wearable: We adored the fact that you could see yourself in these outfits (and perhaps on the set of Desperate Housewives) at a lovely garden party or Sunday afternoon date, as most outfits contained enough dressy and comfortable elements to be actually ready-to-wear.
What's Not Wearable:
The multilayered navy jacket with fringe and lots of layers was the once piece that overpowered the small frame of one of the models.

Entry Filed under: Runway Reviews,Runway Reviews,Trend,Women