September 18th, 2006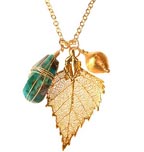 Designer Anne Maa craves nature. And reflecting on her Chrysacola and Birch Leaf necklace, she says, "What's better then to put that nature with wrapped stones and string them on a long chain to play with."
Anne recommends pairing the long necklace with a deep v-neckline and adds that it looks great layered with other shorter necklaces.
Fun facts about Anne? She doesn't like cheese, has a fear of joining any clubs…and of sour fruits, and she wears open toed shoes and sandals all year round.

$160 at Anne Maa Designs.
Entry Filed under: $100-$250,Women,Women's Accessories