September 18th, 2006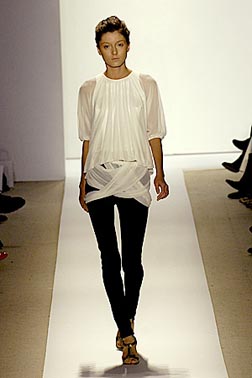 Photo Credit: NY Metro

Key Takeaways: Doori Chung is known for elegant draping, fabric gathers, and the small details that turn the ordinary into the extraordinary. Omiru is pleased to report that Spring 2007 does not disappoint. While her Fall 2006 collection featured wonderfully excessive draping and folds in jerseys with a palette of mostly blacks and some neutrals, her Spring 2007 line turns those styles and colors on their heads with delicate draping and neutral-intense colors. Lovely wide belts in matte metallics adorned waists below which ruffles gently fell and sheer greys and whites are layered over delicate dresses.
Color Palette: Pale creamy neutrals in white, silver, champagne, chocolate brown, and basic black.
Silhouettes: Smooth, sweet and classic means shapes such as feminine babydolls and long and lean silhouettes. We saw the return of skinny pants in black and white (see the "Hello Audrey" GAP ads this season) and slim draping along the lower torso (pictured above). A smooth-fitting trench with floppy lapels in a richly light chocolate brown appeared on the runway for those April showers, and a delicate white ruffled dress with a black tribal-esque design is perfect for those warm May days. We also took note of an oversized bow around the neck of a puff-sleeved and uncharacteristically structured shirt, as well as the appearance of both natural and drop waists.
Accessories Report: Models pranced down the runway in everything from T-strap flats to wrapped heels in neutral complementary colors. The large belts previously mentioned also appeared along with a classic black watch.
What's Wearable: While black may be a bit too sober for spring, we did appreciate a classic, form-fitting, cinched-waist black zip-up jacket paired with a lovely tight pencil skirt. A good number of the dresses in matte colors were also very spring appropriate for a lovely sit-down at a café and people-watching on an Italian piazza.
What's Not Wearable: Avoid dresses that contain too much shimmer and sequins for day-time (even if layered with a sweater).

Entry Filed under: Runway Reviews,Runway Reviews,Trend,Women