September 18th, 2006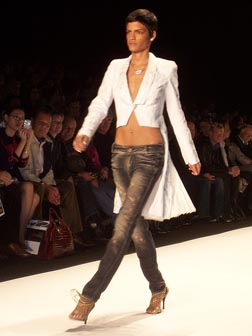 Photo Credit: Coutorture
Key Takeaways: Tunes like "California Love" and "Bad to the Bone," shook the tent, while male and female models rocked the catwalk with lots of sequins, glitter, leather, rose-embossed shirts (a Manuel signature), ruffles, linen, and crisp suits. This was one of the most fun-filled productions of Fashion Week, and the father-son duo behind Manuel even got a standing ovation at the finale.
Color Palette: Black, white, brown, beige were shown alongside glittery sequins and denim fabrics.
Silhouettes: For women: Sleeveless leather jackets, cargo pants, cuffed denim skirts, matador-style jackets, and v-neck long ruffle dresses. For men: Matador jackets, tattered jeans, and button-down shirts with Swarovski crystals.
Accessories Report: For women: Pointy snakeskin boots had chains; some models had Swarovski crystal-encrusted broches in their hair.
What's Wearable: Since most of the pieces were crystal-encrusted, it would be hard to wear them during the day. Many of the women's evening dresses, however, are definitely wearable for fancy occasions. Men would appreciate the rugged denim and leather blazers.
What's Not Wearable: At the very beginning of the show, two models - one male, one female - walked out wearing what looked like a bling-ed out bullet-holder. It was appealing for the Manuel runway, but it can't really be translated onto the streets. The men's shirts with crystals are also very Elvis-esque, so unless you're trying to channel the King of Rock, we wouldn't recommend.
Entry Filed under: Men,Runway Reviews,Runway Reviews,Runway Reviews,Trend,Women