September 18th, 2006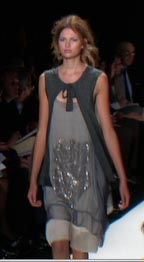 Photo Credit: Coutorture

Key Takeaways: Omiru would like to respectfully sympathize with Vera Wang on the passing away of her father, C. C. Wang, on the morning of her show. Whether intentional or not, the line had a somber and darkly delicate feel with colors and controlled shapes that mirrored the solemn occasion.
Color Palette: Darkly rich and strong like our favorite espresso. We took note of steel greys, blacks, matte mustard gold, and Spring's cream for our coffee, white.
Silhouettes: Victorian layers with accentuated volume permeated Vera Wang's line. Satins were shaped into tight capris and full length pants, while flower prints spruced up babydoll and flared A-line dresses. We did a double take upon seeing a cocktail party appropriate black voluminous cinch waisted dress with enough layers for fullness (but not enough to overpower the wearer). Color-intense draped wraps and small ruffles on the shoulders focused eyes on the bodice.
Accessories Report: We took note of complementary flats in neutrals with cozy straps across the tops of the feet.
What's Wearable: Knee-length printed dresses with large belts and soft kidskin leather flats are oh-so-adorable!
What's Not Wearable: Avoid the frilled neck panel on the sleeveless black shirt to avoid overwhelming your face.
Entry Filed under: Runway Reviews,Runway Reviews,Trend,Women