September 18th, 2006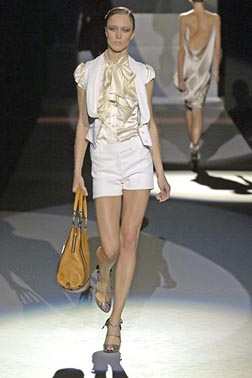 Photo Credit: NY Metro
Key Takeaways: The fashionable young man, Zac Posen, focused on several trends for the Spring season: short dresses, metallic colors, cuffed shorts, and ruffles. Now, these concepts are nothing new, but Posen managed to be original by not ODing on the volume trend.
Color Palette: The main crop of colors shown were off-white, gold, and grey; lime green, hot yellow, teal, army green, and light pink were introduced minimally.
Silhouettes: Pant suits with baggy trousers, silk blouses with bows tied in front, blouses with exaggerated ruffle sleeves, skirt suits with deep side slits, trapeze jackets, cuffed shorts, and cowl neck dresses.
Accessories Report: Models wore wristlets and large leather satchels.
What's Wearable: With the exception of the dramatic and voluminous evening gowns, everything is pretty wearable. Especially suited for the streets are the cuffed shorts and suits.
What's Not Wearable: The finale dress, a lot like Melania Trump's wedding dress, is much too dramatic (and hard to walk in). A red satin dress with uneven edges and a gigantic bow at the neck will make you look like a wrapped holiday gift.
Entry Filed under: Runway Reviews,Runway Reviews,Trend,Women