September 19th, 2006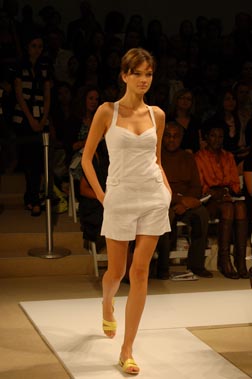 Photo Credit: Omiru: Style for All

Key Takeaways: Effortlessly chic collection of easy-to-wear dresses and separates in
lightweight fluid fabrics. With clean lines and soft shapes, Cynthia Steffe's collection
travels effortlessly from day to Parisian night. Key silhouettes included fitted and floaty
dresses, chiffon tops, tunics, mariner shorts, and loosely fitted jackets. Detailing
included laser cutouts, eyelet, crochet, and embroidery.
Color Palette: Neutrals–white, grey, and black–are accompanied by a playful medley of lime green, yellow, orangey pink, and a spectrum of blues.
Silhouettes: Silhouettes were generally large over small. Sporty, flirty separates included trapeze coats, tunics, chiffon tops, and skinny bottoms: stovepipe pants and mariner shorts. An assortment of rompers, babydoll dresses, and flowy evening gowns rounded out the collection.
Accessories Report: We love the thin double belts that Cynthia Steffe custom designed for this collection.
What's Wearable: Designed expressly to be wearable, Cynthia Steffe's spring collection featured pieces that we're already picturing in our overstuffed closets: a slate grey jumper dress, a filgree print chiffon top, and a pintucked shadow stripe top.
What's Not Wearable: Stovepipe pants can be tricky to wear if you don't have the legs of a model.
Want to know more about Cynthia Steffe? Don't miss Omiru's backstage interview with designer Cynthia Steffe.
Entry Filed under: Runway Reviews,Runway Reviews,Trend,Women