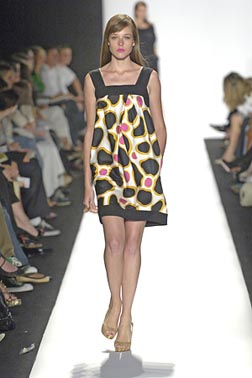 Photo Credit: New York Magazine

Key Takeaways: Bold graphics alternate with solids on classic DVF silhouettes. Diane von Furstenberg's breezy use of controlled volume created many wearable pieces, which ranged from cocoon shaped dresses and bubble shapes to fitted bandeau tops and narrow skirts.
Color Palette: Black, white, and navy were joined by brights: coral, orange, yellow, spring green, and gold.
Silhouettes: Diane's signature wrap dresses and shirtdresses were accompanied by trapeze shapes, shorts, bubble skirts, swing coats, bandeau tops, tops with wide straps, and cocoon silhouettes.

Accessories Report: Long earrings that reach below the shoulders and long necklaces that reach to the waist.
What's Wearable: With Diane's classic wrapdresses and shirtdresses, you can't go wrong.
What's Not Wearable: Exaggerated bubble skirts aren't for the petite.
Add comment September 20th, 2006