September 20th, 2006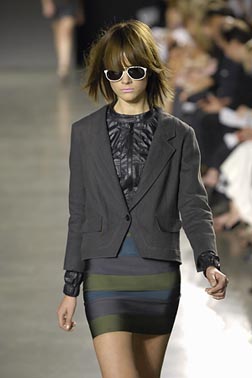 Photo Credit: New York Magazine

Key Takeaways: 80s inspired looks–power chic with a tough edge. Jack McCollough and Lazaro Hernandez alternate between light and dark looks, repeating silhouettes between the two.
Color Palette: Black, dark turquoise and green express Proenza Schouler's dark side, while beige, yellow, pink, and orange round out their light side.
Silhouettes: Silhouettes were either large over small or small over large and included: fitted shirts that hit at mid-thigh, kimono sleeved tops, tops with wide straps, tight bustiers, shorts, and 7/8 sleeved blazers.
Accessories Report: White rimmed sunglasses, belts worn at the natural waist, and heavily laced up sandals adorned the models on the runway.
What's Wearable: Proenza Schouler's outerwear–cropped jackets, blazers, and swing coats–was especially fetching.
What's Not Wearable: Runway models, dressed by a stylist, can pull off pairs of loud prints. However, these combinations are often best left on the runway. More specifically, we found some of the bustiers severe, and the jumper with Daisy Duke bottoms won't do short legs any favors.

Entry Filed under: Runway Reviews,Runway Reviews,Trend,Women